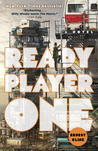 Ready Player One by Ernest Cline
My rating: 5 of 5 stars
Date read:  January 27 to 29, 2017
What fun!  Are you ready player one?
Sister Read Review by Norma & Brenda
READY PLAYER ONE by ERNEST CLINE is an extremely entertaining, exciting, clever, and a high stakes adventure that we both thoroughly enjoyed.
Are you ready to escape to the Oasis?  READY PLAYER ONE has us following along Wade and his avatar, Parzival in a virtual world called the Oasis completing quests for the ultimate prize.  Where the puzzles are a blast from the past, intriguing, action is intense, and the payoff is rewarding.
Pulling us into the past with CLINE'S references to the 80's Pop Culture and his detailed descriptions of the game brought the world of Oasis alive for us which had us feeling like we were playing the game along with Wade.
This novel was filled with believable characters with real-life traits and we really liked everything that each of them brought to this story throughout this adventure. They each had their role to make this an extremely tense and thrilling read. ERNEST CLINE delivers an action-packed story with a solid plot that was easy to follow along with the storyline and all the characters involved.
We found this to be a fast-paced race to the finish for both the game and the book.  Highly recommended read for lovers of all things 80's!  This one is definitely another favorite read of 2017!
To sum it all up it was an enjoyable, fun, action-packed, and a fast-paced read with a big happy smile ending. Most definitely recommend!!