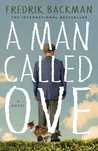 A Man Called Ove by Fredrik Backman
My rating: 5 of 5 stars
Read January 23 to 25, 2017
A Man called Ove is a charming and witty story of a grumpy old man with a hidden generous heart. Who has emotional pain and comes across as angry and difficult for no good reason. With the kindness from his neighbours they start to break through the walls he has put up around himself. We see his emotional history told through alternating chapters as we learn how he came by his grumpiness honestly. Ove is a difficult character we all can relate to and we can find people like that everywhere.
Ove had me laughing out loud right from the first chapter. He had me laughing at times and reaching for a tissue at other times. I love a book that has me feeling different emotions. I like how the relationship he had with his wife Sonja balanced Ove's gloom and anger with brightness and encouragement and how Parvaneh forces her way into his life and forces him to connect with them.
The comment from Ove that made me laugh out loud the most was "How the heck are you suppose to have a reasonable conversation with someone who buys a BMW". I drive a BMW and I also have driven a SAAB.
A Man called Ove is a feel good story of what it is like to be human. If you have this one on your shelf to read I recommend reading it soon.