Top Ten Tuesday was created by The Broke and the Bookish in June of 2010 and was moved to That Artsy Reader Girl in January of 2018. It was born of a love of lists, a love of books, and a desire to bring bookish friends together.
This week's topic is Books to Pull You Out of a Reading Slump. I thought it would be fun to get some recommendations from some of the Traveling Sisters for this topic.
When I have been in a slump or feel like I need a push I have grabbed a Harlan Coben and that has always worked for me.  I have read most of his stand-alone but I do have a couple from his Myron Bolitar series that I haven't read.  One of my favorite stand-alone I have read was with Norma, Lindsay, and Kaceey.
From Kaceey's review
Absolutely outstanding! Loved everything about this book from start to finish! As good as his Myron Bolitar series, this one does not disappoint! There is even a cameo appearance! Yeah! Would highly recommend to all Harlan Coben fans!
From Lindsay's review
Harlan Coben delivers an intensely suspenseful, captivating, fast-paced thriller that kept me guessing from start to finish. I have read one other book by Coben (The Innocent) which was good but didn't "wow" me. With encouragement from my fantastic "sisters"  I jumped on board this Traveling Sister Read and tried out Coben's latest book and it definitely lived up to the hype!
Another one I would like to recommend is from the Myron Bolitar series.  I read this one with Kaceey and it was one we could not put down.  I think it would make a great choice to get you out of a reading slump.  I think it works as a stand-alone and I think after reading this one you will be looking for more in this series.  Soon that slump will be far into the past.
Home by Harlan Coben
From Kaceey's review
The witty banter is nonstop throughout this book. I read from beginning to end with a permanent smile on my face. Harlan Coben makes it seem so easy. The words just flow and the storyline is seamless.
I was concerned that the intensity of this book wouldn't hold till the end – hoping that I wouldn't be let down in the end. I needn't worry! The ending meshed perfectly to the book as a whole. I was left with a big ole' grin on my face and tears running down my cheeks.
Well done, Mr. Coben!
This book earned a place on my shelf of all-time favorites
From Susanne's review
Harlan Coben out did himself with this one. This is without a doubt his best novel to date and is his best Myron Bolitar/Windsor Horne Lockwood III, novel. It had heart and soul and was a great mystery to boot. I laughed, and cried, more than once. I absolutely loved it and loved that Myron and Win had to get the team back together in order to figure this one out. Big Cyndi was prominently featured and was a hoot as always. What was obvious from the first chapter was that these characters are the heart and soul of Harlan Coben and they have never left him, and neither will we.
Norma's Recommendation 
Lisa Gardner has always been one of Norma's go to authors when in a reading slump.  She finds her books are always adrenaline-inducing thriller rides that are extremely hard to put done.  Since Lisa Gardner writes series she is recommending the first book to her favorite series, Quincy & Rainie.
The Perfect Husband by Lisa Gardner
I've Got Your Number by Sophie Kinsella
When Norma is in thriller overload she likes to switch to a fun, lighthearted and easy read with laugh out loud moments.  She recommends.
Susanne recommends
She thinks that creepy character Paul Storm will pull you out of a reading slump for sure.
From Susanne's review
Paul Strom is quite special – lets just say he's one heck of a guy and not in a good way. The author, Kaira Rouda did a phenomenal job of making him utterly despicable.
I listened to the audiobook of "Best Day Ever" and it captured my attention from the first sentence. It was completely gripping and was in fact the best audiobook I have listened to in 2017. Kudos to the narrator, Graham Halstead for bringing Paul Strom to life. This is a book that I highly recommend. It is extremely entertaining, full of lots of crazy twists and well, it was totally wicked, in the Best Way Ever.
From Kaceey's review
"Oh my gosh! Paul is the perfect leading character you will just love to hate! I can't say anymore…you'll just have to read it yourself! The book is delightfully different and so well done! Not your typical domestic thriller! I blazed through this one in two sittings!"
Another recommendation from Susanne is one her and I read together and really enjoyed.
She Rides Shotgun by Jordan Harper
From Susanne's review
"She Rides Shotgun" is a book that makes you feel things you shouldn't as it goes against the grain and makes your heart beat wildly against your chest. I fell in love with eleven year-old Polly McClusky in the first few seconds of this novel and I have a feeling you will too.
Lindsay's recommendation
Jodi Picoult is always a winner for pulling Lindsay out of a slump and Norma and I agree.  I seem to save the ones I haven't read for when I need a push. Norma and Lindsay both read Small Great Things but I haven't read it yet.  I am definitely taking this recommendation.
Small Great Things by Jodi Picoult
From Norma's review
Jodi Picoult is by far my most favourite author! She has done it again! The subject matter at times was hard to read as the story being told was very heartbreaking and disturbing but it was executed perfectly. This author always makes me think and I have always learned something new from reading one of her novels.
Kristin's recommendation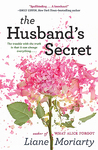 The Husband's Secret by Liane Moriarty
What Kristin had to say about this one 
This domestic thriller revived my love for reading and has everything from comical snarky narratives to secrets hidden so deep the characters themselves know less than the reader.
From Kristin's review
The writing … I'm in love! Gripping, polished, and so, so witty. This author not only knows how to breathe life into her characters, but she masters the art of sarcasm and irony. It was all thinly veiled, nothing excessive, and it worked wonderfully. When a character appeared shallow, it was clearly intentional…almost as though the author and reader were in on some joke at the character's expense.
Christina's recommendation  
Christina likes to read something outside her normal genre and recommends.
What Kristin has to say about this one
This story makes you think about possibilities: Multiverses, parallel worlds, life everlasting—but builds an easily-digested story around such ideas that is both consuming and imaginative. This is a real page-turner, written in an eloquent, breathtaking prose, and the perfect read for both fans and non-fans of Scifi. 
Would recommend to readers interested in dipping their toes something Scifi-ish, but wary of becoming immersed its technical elements. And also to those who enjoy an adrenaline-fueled ride! 
From Christina's review
What I'll say is that my heart was literally and actually pounding the entire time I read this. This is a wholly original, unique and truly phenomenal story. Quite possibly the most spectacularly singular story I have ever read. This 10000% lives up to the hype and EVERYONE should read this.
From Bern review
Don't we all have moments where we wonder about the road not taken? I think that's simply part of human nature to wonder – what if…. Crouch did a hell of a job exploiting (& exploring) that in this book and expanding the reader's mind and heart along the journey. Imagine if you could go back to one specific moment in time and choose a different path. Would you?
Norma's Review of Dark Matter by Blake Crouch
Jan's recommendation
Jan also recommends trying something outside your genre.  She recommends this title for its short chapters that are easy to read a little bit at a time.
Dear Fahrenheit 451: Love and Heartbreak in the Stacks: A Librarian's Love Letters and Breakup Notes to the Books in Her Life by Annie Spence
From Jan's review
I loved this book! Each chapter is either a love letter or a break-up note to specific books and/or genres. It's the perfect book to have on your nightstand (or in my case, on my Hoopla app) to dip into for a chapter or two at a time.
From Diane's review
I'm pretty sure I'm not the only one who sometimes gets so into a book that I find myself talking to the characters. "No, don't do that, not a good idea at all, or oh no don't open that door, etc,". Well, how could I not love a book, written by a librarian who does in a way just that?
The rules for Top Ten Meme
Each Tuesday, Jana assigns a new topic. Create your own Top Ten list that fits that topic – putting your unique spin on it if you want.
Everyone is welcome to join but please link back to The Artsy Reader Girl in your own Top Ten Tuesday post.
Add your name to the Linky widget on that day's post so that everyone can check out other bloggers' lists.
Or if you don't have a blog, just post your answers as a comment.
What do you think of our recommendations?  Have you read any?  Do you have any you would like to recommend to us?  Drop us a comment!  We would love to hear from you.