Top Ten Tuesday was created by The Broke and the Bookish in June of 2010 and was moved to That Artsy Reader Girl in January of 2018. It was born of a love of lists, a love of books, and a desire to bring bookish friends together.  This week's topic is: Books by my favorite authors that I still haven't read.
Daisy in Chains by Sharon J. Bolton
Norma and I have read a couple of books by Sharon Bolton and she has become one of our favourite authors. We do still have a few books that we haven't read but this one is high on our list to read.
A Noise Downstairs by Linwood Barclay
Linwood Barclay is a go-to author for both Norma and I and we have read most of his books.  This one has been sitting on our EW shelves for quite some time. He never disappoints so we should just get to it and read it soon.
Women Talking just recently caught our eye and Norma and I both just went out and bought the book.  This one is on the top of our list to get to soon.

All We Ever Wanted by Emily Giffin
Norma and I have been reading Emily Giffin books faithfully for years which started out with the Something Borrowed series and loved them so much that we are always excited to see when she has a new release out. Norma has read all of her books except for this one and is really excited to get to it. I gifted Norma my copy of this book as I know how excited she is to read this author. I still have a few books to read by Emily Giffin to catch-up to Norma!
Us Against You by Fredrik Backman
Fredrik Backman became a favourite after reading A Man Called Ove and Beartown just clinched him as one.  We just bought this book and love having them in our book stash.  Us Against You is one that is sitting high on our shelves to read.
Winter Garden by Kristin Hannah
This was a much loved Traveling Sisters Group read that we all absolutely loved except for the fact that Norma wasn't able to fit this one in and ever since it has been on her radar and she is desperate to read it sometime soon.
This has been one I have been meaning and wanting to read for quite some time. I know I will just love this and there will be just the right time for me to dive into this one.
Two Rivers by T. Greenwood
After reading Where I Lost Her which became one of Norma's all-time favourite books. T. Greenwood became a favourite author of Norma's and has read a few others and really enjoyed them. She describes T. Greenwood's writing style as so relatable and it feels like she is writing just for her that is how well Norma connects with her storytelling. We really want to read this one as we've heard lots of good things about it.
After reading Redemption Road, John Hart became a favorite for us and after reading we were hooked.  We quickly bought some of his backlist and they are on the top of our list to read.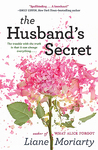 The Husband's Secret by Liane Moriarty
Why I haven't read this one yet, I really don't know.  I have carried this book back and forth with me so many times when I traveled but I just haven't read it yet.  This is one I am going to find the right time for and with the new one coming out I really want to read this and the new one.
Brenda – So I really think I need to lock myself in a room with all these books and not come out till they are read.  I also need not to open that NetGalley page till I have read some of these title.  I think it's funny how I own so many books by my favourite authors and I seem to hold on to them and not read them.  It's like I want to keep them close and just have them to look at, hug and available just for that perfect time to read each one.   It's comforting to know they are there waiting for me to read them when I need that comfort.
Norma – So I have pretty much the same much-loved "book problems" as Brenda does but where we might differ a little bit is how we decide what to read. I have a collection of books by my favourite authors just like Brenda and we both pretty much feel the same way about our books but my feelings really play a huge part in what I choose to read. A favourite author I have to read right away and nothing can stand in my way – sometimes not even Brenda. But boy does she try! Lol Books definitely call my name whether it being a favourite author, an appealing cover or an enticing title. That's what comforts me knowing that I can walk into my rooms where I store by books and that one book that is standing out and making me feel that's it's saying, "please read me next" has such a wonderful appeal to me.

Do you like to hold on to some of your favorite authors books just for that perfect time? Are you a mood and emotionally reader like Norma?  What books by your favorite authors have you not read?  Drop us a comment.  We would love to hear from you!